90-DAY ONLINE BOOT CAMP SALES TRAINING
There is no better way to onboard new hires than 90-Day Online Boot Camp Sales Training.  Existing staff will love it too.  Managers agree that it's the daily, sales training they need, uniquely delivered, with ACCOUNTABILITY built-in!  Get ready to motivate and build a strong, confident sales and service team.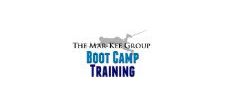 No contracts or long-term commitments required.
Have questions or ready to get started?
The Mar-Kee Group
26248 Equity Drive
Daphne, AL 36526