RV-SPECIFIC SALES TRAINING
PROGRAM OVERVIEW
Dealing in recreational vehicle sales is like no other sales process. Certainly, it has a lot to do with price and product, but it's also about building value and relationships.
eRVtraining makes it easy to prepare your team to sell a variety of vehicles such as Class A, Class B, or Class C coaches, 5th wheels, travel trailers, pop-ups, and motorhomes.
•  RV Sales Training
•  RV Service Advisors Training
•  RV Sales Management Training
•  Receptionists Training
•  New Hire Training / Onboarding
eRVtraining is consistent, cost-effective and convenient. Get results, become more productive, and reach higher levels of personal success with professional rv-specific sales training.
Browse our impressive RV sales training course catalog.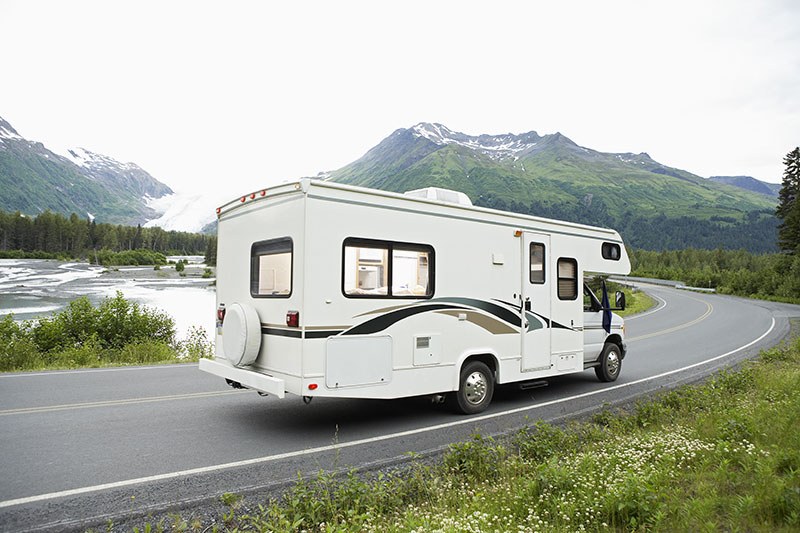 FEATURES
•  Professional RV-specific material
•  Brief video assignments & testing
•  Practical role-play scenarios
•  Frequently updated content
•  "Report Center" for accountability
•  Track progress with automated notifications
•  "Printable Course Materials" with word tracks
•  Comprehensive lesson plans
•  "Certificate of Completion" for recognition
•  Accessible online, 24 hours a day / 7 days a week
KEY BENEFITS
Build a strong team, boost productivity, and advance careers by preparing your RV dealership for success. Trusted by RV dealers around the world, eRVtraining provides innovative and powerful brief, RV-specific sales, service, and management training.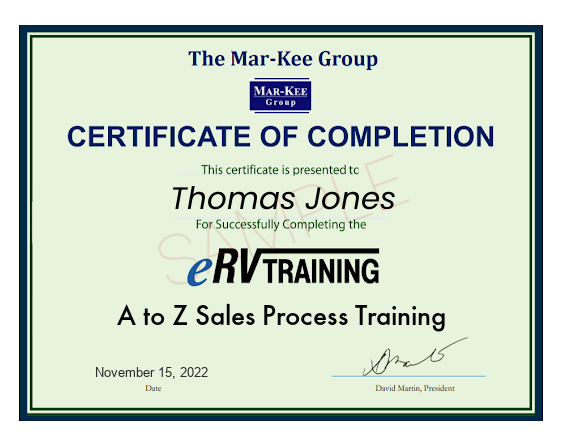 •  RV sales process training
•  Negotiating / Closing
•  Prospecting / Follow-up
•  Handling objections
•  Attitude / Build confidence
•  Personal / Business development
•  Communication skills
•  Phone / Email / Social media
•  Goal setting
•  Leadership / Coaching techniques
•  Inspiration / Motivation
•  Building value
•  Customer service / Retention
•  Time management and more…
VIEW BRIEF DEMO VIDEOS

RV-Specific Sales Training
Objections Conquered! — "I Want To Think About It"
Ultimate Phone Expertise – Outbound Calls (Part 1)
300+ Brief Video Segments Available
Have questions or ready to get started?
Subscribe Now!
Get FREE brief sales training videos, tips, motivation & industry related topics of interest.
The Mar-Kee Group
26151 Equity Drive, Suite #8
Daphne, AL 36526