Let's talk trade walk. You may have a good handle on it…or you may need to take it up a notch or two.
If 65% of the people you talk to have a trade-in and nearly all of which have a higher figure in mind for the trade-in value, the number you deliver may be a sticking point with your customer.
Spending 4-5 minutes performing a trade walk with every customer, could earn $400-$600 in customer flexibility. That's $100/minute ROI!
No, you will not begin averaging $400-$600 more per copy, but you will earn that much in flexibility, on average, when handled properly. DO NOT BE CASUAL ABOUT THIS STEP!
Scenario:
I have a customer that wants $8000 for their trade, but will take $7000. I have them accompany me on a trade walk where we both acknowledge imperfections.
They will ultimately be more receptive and less combative, when I serve the proposal.
Now, there is an art to doing this so that you get maximum benefit.
Follow the outline of the conversation here:
"Mr. Flowers, I really would like to do all I can to help you get the most money possible for your current vehicle. Please tell me a little about your vehicle while I get the information I need to have it appraised. Come with me, please."
At this time complete the basic assessment. Take note of the imperfections…but engage with the customer as you do so. You will probably get a story or two, and that's good!
THEN, find something positive to comment on.
It may be that you haven't seen a perfect windshield in a month, or "we really appreciate it when someone takes such good care of the interior."
Let them see you write down the positives.
The key is not to strictly find fault; they could get offended and/or feel that your competition down the street won't be so picky.
Face it, your customer did not get up that morning and do a reconditioning assessment so they could be fair to their sales consultant. The stores that correctly implement this as part of the sales process are realizing immediate benefit. Remember, you lead by example.
Take every opportunity to show your people that you don't ask them to do something that you are not willing to do yourself.
Never forget, this is easier not to do, so pass the test at the desk. You lead the way.
For more Sales Management tips, give me a call 888-300-4629.
Richard Keeney
The Mar-Kee Group
888-300-4629
251-680-6633 (cell)
markeegroup.com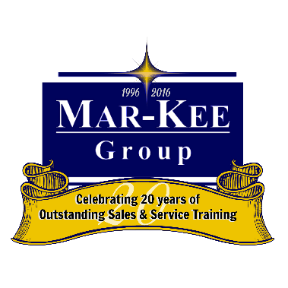 The Mar-Kee Group is proud to celebrate 20 years of outstanding Sales, Service, and Management Training.